162 results for
Power Tools in UAE
About Power Tools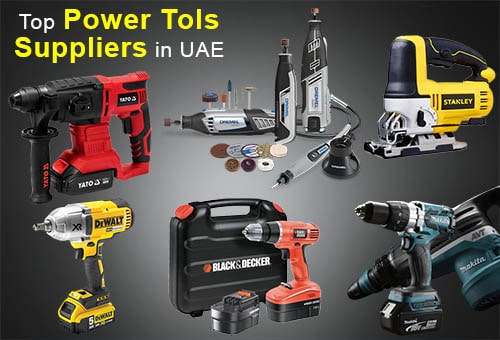 Power tools are used for construction work, garden work, housework, drilling, cutting shaping, sanding, grinding, polishing, routing, heating, painting and much more. They often use additional power source in addition to the manual labour. Most power tools use an internal combustion engine, electric motors or compressed air, they are classified into portable and stationary.
Some commonly used power tools are impact driver, air compressor, alligator shear, angle grinder, band saw, belt sander, biscuit joiner, chainsaw, circular saw, concrete saw, crusher and diamond blade. Power tools which are used for cutting purposes are cold saw, crushers and disc cutter. Tools which are used to smoothen surfaces are disc sander, floor sander and hedge trimmer. Other appliances include heat gun, grinding machine impact driver, impact wrench, jackhammer, jointer, jigsaw, knitting machine and mitre saw.
Pressure powered tools or pneumatic tools use compressed air to function. Some examples of pressure tools are needle gun, nail gun, pressure washer, air ratchet, airbrush, blow gun, air hammer, pneumatic angle grinder, pneumatic impact wrench, pneumatic jack and sandblaster. Other pressure powered tools include paint sprayer, riveting hammer, needle scalier, low vibration air saw, shock reduced hammer, pneumatic wood borer and pneumatic scraper. Some examples of rotary power tools are random orbital sander, rotary saw, rotary tiller, reciprocating saw and radial arm saw.
Some power tools which are used in homes are wall chaser, wood router, vacuum cleaner, lawn mower, leaf blower, table saw, washing machine and knitting machine. Above listed are the top power tool dealers and suppliers in UAE stocking huge variety of power tools. A power device is a gadget or machine fueled by an extra source or system other than our own human body. Power tools are probably some of the most efficient gadgets used at any point of time. Air compressors, trimmer, table saw, drill, nail gun, rotary tool, heat gun, impact driver, scroll saw, miter saw, belt sander, lathe, planer, chop saw, biscuit joiner, hammer drill, power screwdriver, oscillating tool are some of the most commonly used power tools. .
Power tools are the handheld power device for which the source of power includes electricity, hydropower, gasoline, electric motor etc. Power tools help to performs simple to complex tasks within minutes. Every residential and commercial buildings require essential list of power tools that solves issues in no time. Choosing the right power tools from the vast list of varied power tools is based on the task and the requirement. The usage of power tools is not restricted for specific place or industry.
They are found everywhere right from a small residential unit and also by construction engineers for building construction sites, machine repairs, garages, steel industry, renovations etc. Every power tool is designed for a specific set of work application. In order to cover wider application range power tools are now available with combination kit that contains drills of various sizes and dimensions that are ideal for numerous applications.
Some of the power tools that are widely applied over various industry include air compressors, heat gun, planer, angle grinder, impact driver, power screw driver, radial arm saw, impact wrench, bandsaw, jointers, belt sander, reciprocating saw, biscuit joiner, jigsaw, router, scroll saw, circular saw, chop saw, lathe, nail gun, shop vacuum, disc sander, wall chaser, hammer drill etc. Power tools are much powerful when compared to the hand tools. The job done using power tools has greater accuracy and most importantly time saving factors of all the projects. Most of the power tools handles jobs that are merely impossible by the manual tools. Listed are the authorized dealers of branded power tools in UAE including Makita, Dewalt, Festool, Femi, DACA, Ryobi, Rapid, Felisatti, Maktec, Rupes.
Power tools are part of the automotive, construction, fabrication, repair and maintenance industry. Power tools are widely categorised as electrical, power-driven, battery-operated, pneumatic or hydraulic. Some of the pneumatic power tools include impact tools, fastening tools, torque wrenches, drills and reciprocating saws. They offer high-quality heavy-duty cordless screwdriver, cordless impact driver, cordless drill, cordless multi-cutter, cordless rotary hammer with the specification of battery voltage 18V/1.5Ah, chuck capacity 13mm, screw diameter of 10mm, weighing 1.0Kg. Get the best brands of power tools including Bosch, Milwaukee electric tool, porter cable, Dewalt, Makita, Black+Decker, Craftsman, Ryobi, Hitachi, Ridgid, Worx. Corded power tools play a vital role in the professional sector from professionals. All of their power tools are geared towards the consumer market that is ideal for any kind of the work and available in multiple sizes, weights and voltages.