89 results for
Pallet Racking in UAE
About Pallet Racking
Pallet Racking in UAE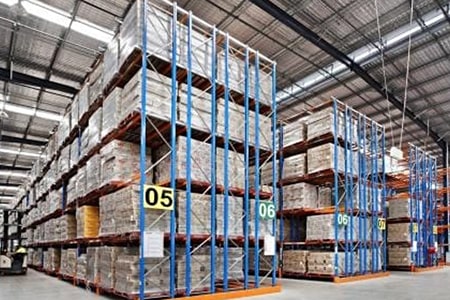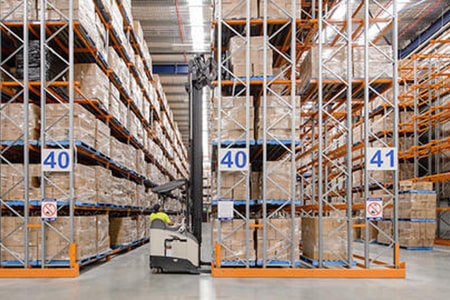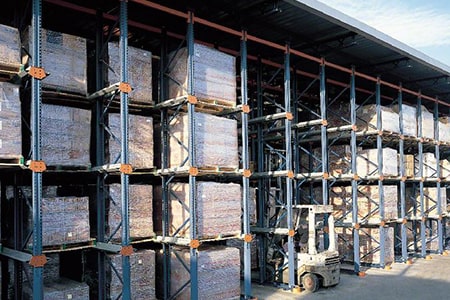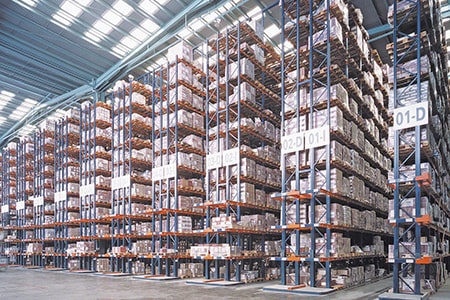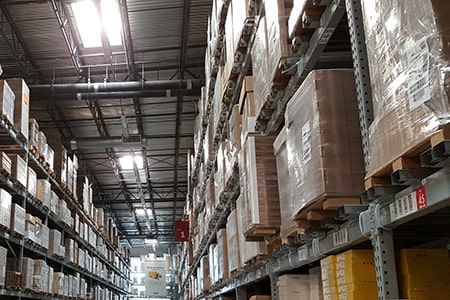 Wide aisle pallet racking
Wide aisle pallet racking is the most popular pallet racking solution for warehouses that requires unrestricted access to all pallets. Every pallet has individual access and is reachable anytime with this racking solution. Narrow aisle pallet racking is half the width of wide aisle pallet racking and ensures enough space in the warehouse. A standard wide aisle has a depth of 800mm/900mm/1050mm/1100mm, length of 1000mm-5000mm, a height of 1500mm-3000mm with a loading weight up to 5000kg per level, and 3000kg per bay.
Narrow aisle pallet racking
Narrow aisle pallet racking or VNA is a variable industrial pallet racking solution that gives compact storage solutions within a small area. The compaction of the pallet levels is reduced up to 1.5 meters, thus saving up to 40% of the total space. They are flexible and allow great use of the width and height compilation. Some of their industry-standard specifications include Z-shaped closed box beams, I-beam, the height of 13.5meters, bay load up to 3000kg, compartment load up to 5000kg with a height of 3500mm, and width up to 5000mm.
Double deep pallet racking
Double deep pallet racking increases the density of the storage system, which is ideal for saving storage space. Some of the features include easy to assemble pallets, being highly accessible, and being adjustable. Their load capacity ranges from 500-600kg per level. Double deep pallet racks cost around an estimation of $90-$140 per pallet position on average.
Cantilever racking
The listed cantilever suppliers customize as per the client's needs, follow the industrial SEMA standards. Cantilever racking makes the best use of the vertical space columns. They increase the rack size and are ideal for storing timber packs, sheet materials, pipes, concrete lintels, scrap vehicles, etc. The material of cantilever racking is generally steel with an arm length of 1500mm and column depth of 1000mm/1500mm/2200mm.
Drive-in & drive-through pallet racking
Drive-in or drive-through pallet racking solution is a last in and first out racking system. The forklifts drive through the place and pick or remove pallets by themselves. The industrial standard drive-through pallet racking solution costs approximately between $100-$250 per pallet position.
Push back pallet racking
Push back pallet racking system is a typical stationary rack structure equipped with nested carts like inclined rails. LIFO racking solutions include drive-in, push back and double deep selective systems. Push back pricing varies depending on the pallet weight, depth, rack height, and the cost range between $100-$200 per pallet.
Pallet live racking
Live pallet racking is the ideal racking solution for perishable goods and provides a compact structure with first in and first out racking methods. The movement of the pallets in live racking is secure. Other design options include split rollers, floor level pick-up, folding rollers, push-back management.
Mobile pallet racking and shuttle pallet racking
The mobile pallet racking system is a multi-level unit structure that saves more space. All mobile pallet racking systems are designed to provide the utmost safety and security to the workers. Mobile racking is one of the lower maintenance systems in a semi-automated warehouse solution.