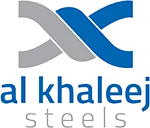 Al Khaleej Steel Industries LLC
Products & Services :
Barbed Wire
,
Fencing Contractors
,
Fencing Work
,
Wire Products
,
Wire Suppliers
,
Fencing
,
Fencing Suppliers
,
Wire Mesh
,
Armoring Wires
,
Bedding Spring Wires
,
Cable and Wire Manufacturers
,
Cable Armor Wires
,
Chain Link Mesh
,
Fastener Wires
,
Fence Installation
,
Fencing Barriers
,
Fencing Installers
,
Fencing Wires
,
Gabion Wires
,
Galvanised Wire
,
Galvanized Chain Link
,
High Tensile Wires
,
Mattress Spring Wire
,
Phosphated Wires
,
Pvc Chain Links
,
PVC Coated Wires
,
PVC Wires
,
Weld Mesh
Business Details
Business Description:
Al Khaleej Steel Industries L.L.C builds its reputation as a organization, which utilizes its resources to ensure total customer satisfaction with thrust on quality, consistency, reliability, knowledge integration and system perfection through continuous R & D with social and legal responsibility.
AKSI has initiated the implementation of ISO 9001:2008 & ISO 14001:2004 certification right from the inception stages, has commercialized a process of cleaning, heat treating, galvanizing coating and thanks to our groups In house expertise and thorough knowledge of our manufacturing needs our production lines are equipped with the most advanced machines and infrastructure. This in turn, enables us to match our production methods to our company practices. Our company utilizes this unique modern technology to produce Zinc coated wire of superior quality that is completely uniform in diameter without, burrs or lumps of zinc. We use best practices to eliminate hazardous material from our production processes, we implement proactive measures and use equipment with low energy consumption and reduced environment impact.
Our products have varied fields of application where high corrosion resistance is of prime importance, our product range can meet various segments requirements like Cable Armoring, Fencing, Gabions, Wire Mesh, Welded Panels, Barbed Wires, Fasteners, Black Annealed Wires, Bailing Wires, Binding Wires, Bucket Handles, other medium Tensile Wire & Construction Applications, etc.